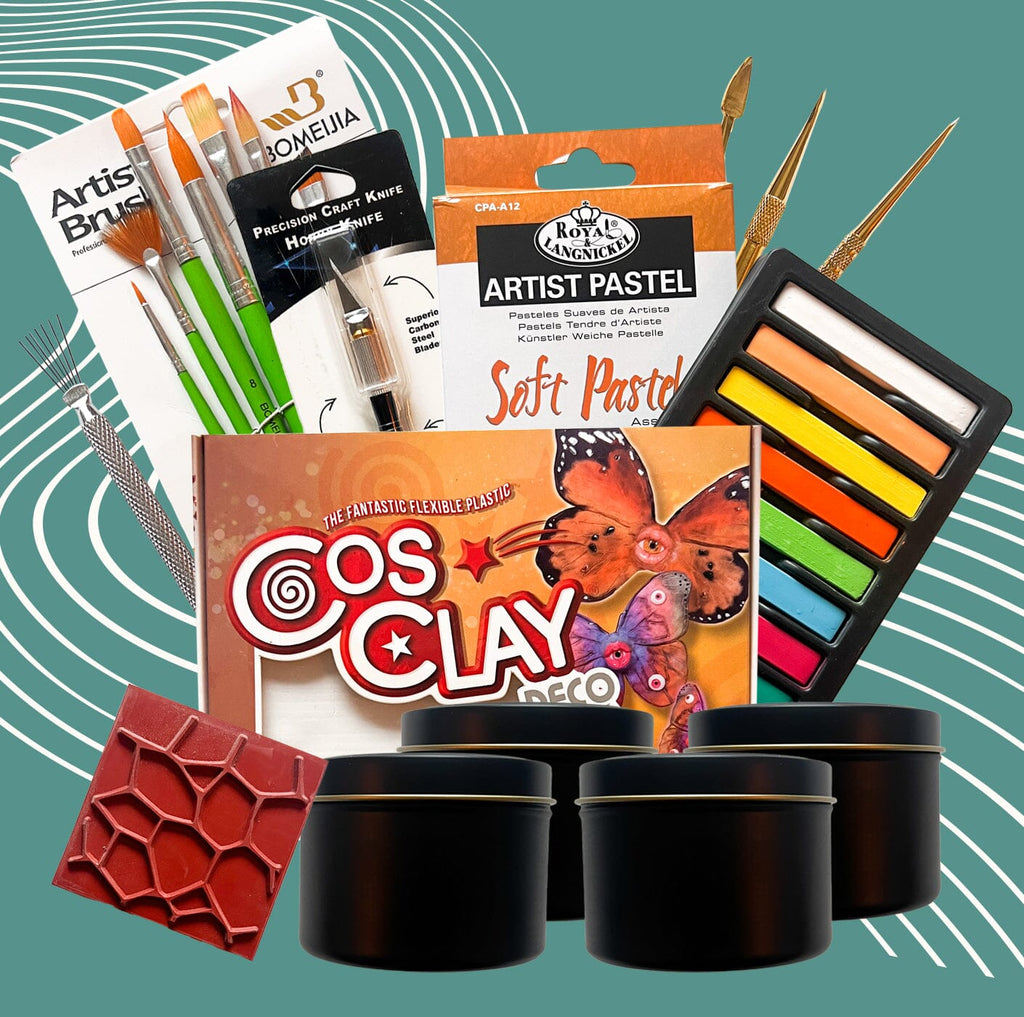 Featured in January 2023
POLYMER CLAY
$49.95 USD
Clay is something that can turn your wildest dreams into a physical reality. Having the ability to take something in your mind and give it a 3 dimensional form is such a powerful thing. With 2D art, you have to trick people visually into what you were trying to create. With clay, you have the ability to let your viewer hold your thoughts in their hands.
What's in

the box?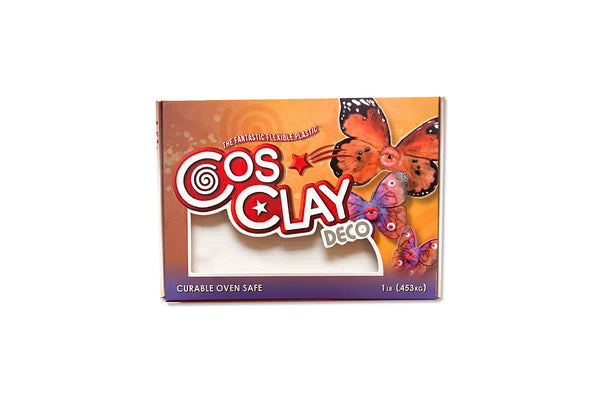 COSLAY - DECO WHITE
Featured Medium - Retail $16.59 USD
Cosclay is a specialized, hybrid, plastic/rubber polymer clay that will retain flexibility after curing. With its unique flexibility imparts a durable and resilient quality that is suitable for endless applications. This includes stop-motion characters, poseable figures and much, much more! The possibilities are truly endless.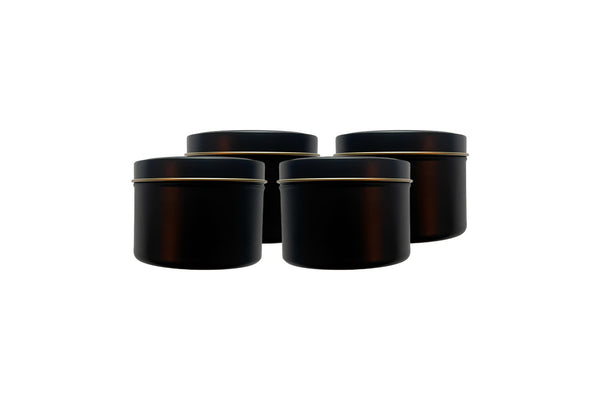 METAL TINS JARS WITH LIDS, 4PCS
Featured Canvas - Retail $2.92 USD each
These tin jars are perfect to have around your house or office. Coated in a sleek black finish, these will look great on any shelf or counter top. Ideal for making homemade candles or perfect for storing small objects.In this month's project, we will use them as a foundation for our sculptures and customize them into a unique and functioning piece of art!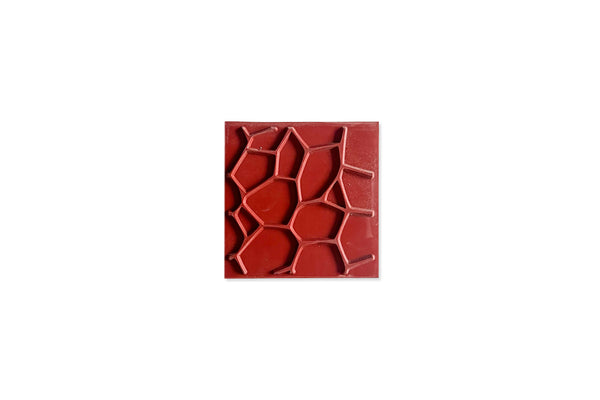 MUSE KITS, STONE TEXTURE STAMP
Featured Tool - Retail $3.99 USD
This custom stamp mimics the look of stone floors or walls. Use this on clay to create simple and easy streets and sidewalks, or even the side of a medieval castle. This can also be used as a traditional stamp with ink. With an easy to clean up rubber surface, this makes for a versatile and easy tool to use.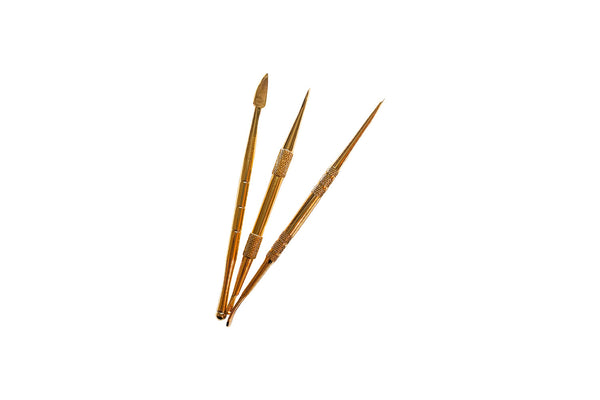 STAINLESS STEEL DOUBLE-ENDED SCULPTING TOOLS - GOLD
Featured Tool - Retail $11.00 USD
This 3-piece set of double-ended tools are ideal for carving, sculpting, modeling, cutting, scraping, brushing, and smoothing your clay projects. These tools are perfect for getting into those hard to reach areas on your sculpture. With each tool providing a different tip on each end, you will have everything you need to create the perfect sculpture.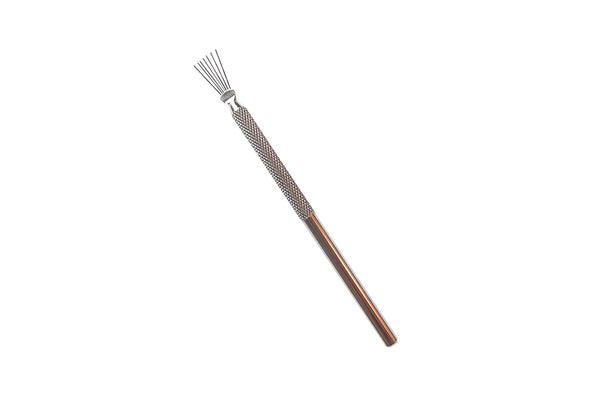 FEATHER WIRE TEXTURE TOOL
Featured Tool - Retail $2.99
This tool features wire bristles that allow you to make multiple fine lines with one stroke, which are difficult to achieve with a single point tool. Use the wire brush to create textures including hair, grass, and feathers in your clay. With a sturdy metal handle, you will have better control over each stroke you make with this tool.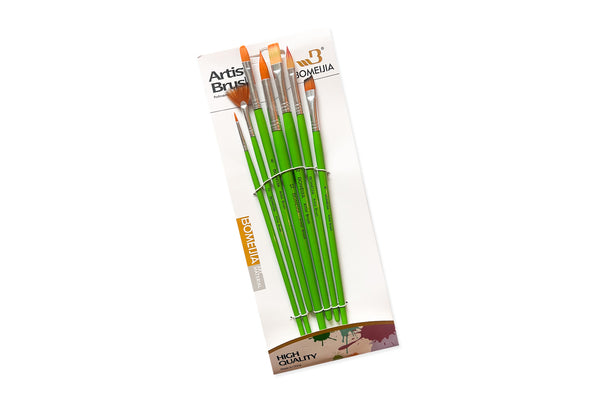 GREEN MIXED BRUSH SET, 7 PCS
Featured Tool - Retail $12.00 USD
This mixed set of 7 brushes gives you a large range of flexibility with artwork this month. With an allergy-free alternative to sable hair or boar bristles, these fine art brushes hold their shape and maintain their fine points under the toughest conditions. This set features green lacquered handles and nickel-plated ferrules.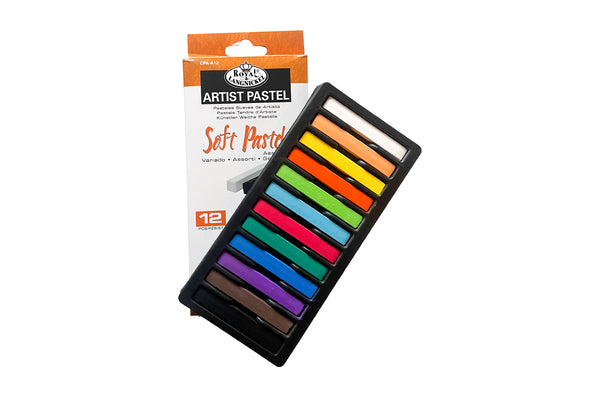 ROYAL LANGNICKEL SOFT PASTELS, 12PC
Featured Medium - Retail $8.99 USD
Royal & Langnickel's Soft Pastels have a velvety texture, offering smooth and consistent coverage. Featuring a variety of rich, vibrant colors, these soft pastels are ideal for all types of art projects. This month, you can utilize these pastels to tint the color of your clay.
HOBBY KNIFE
Featured Medium - Retail $5.99 USD
This knife features a four-jaw machined holding head for secure blade positioning, a super sharp blade and a snug fitting cap. It is used for precision cutting, trimming and stripping of paper, plastic, wood, cloth and film. flexible.