A SPECIAL COLLABORATION BETWEEN
FRITZ DOES ART X MUSE KITS
SHIPPING BEGINS OCTOBER, 2023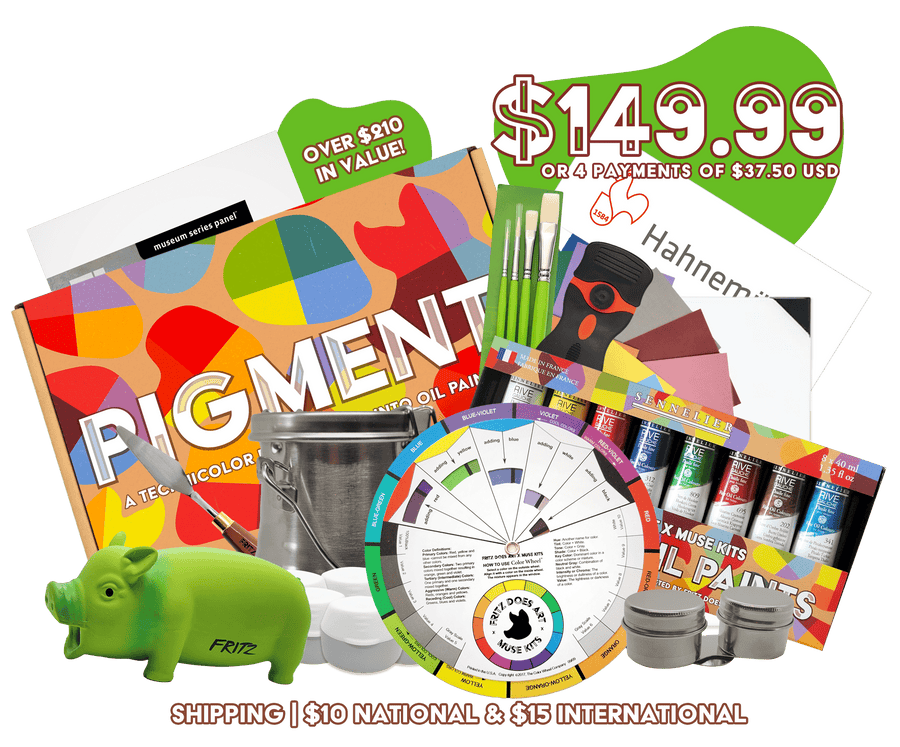 WHAT'S INSIDE?
Exclusive Fritz Does Art Rive Gauche Oil Paint Set, 8pcs - 40 ml tubes
Fritz Does Art Glass Paint Palette
Fritz Does Art Artist Synthetic Oil Paint Brushes, 4pcs
Fritz Does Art Palette Knife
Hahnemühle Oil 230 Block, 7" x 9 ½" - 10 sheets
Ampersand Gessobord, 5" x 5"
Deluxe Airtight Brush Washer
Double Palette Cups with Lids
Double Sided Blade Scraper
Artist's Color Wheel
Fritz Does Art Signature Color Swatches
Fritz Does Art Collectible Pig
Silicone Paint Storage Jars, 6 pcs
Lint-free Cleanup Towel
Disposable Gloves
MEET FRITZ
Introducing "Pigment," the ultimate art kit designed by Fritz Proctor, an accomplished artist and color theory expert better known as Fritz Does Art. Fritz understands the importance of art and believes that practicing color theory not only enhances our perspective on the beauty that surrounds us in our everyday lives, but also helps us become better artists.
With Pigment, Fritz has hand-selected every material inside the kit to provide artists of all levels with the tools they need to master color theory and create stunning works of art with oil paint. In collaboration with Muse Kits, Fritz has made oil painting affordable by curating a selection of high-quality materials that won't break the bank.
Inside the Pigment kit, you'll find a custom reinforced glass palette for mixing paints, a variety of brushes, the perfect palette knife, reusable color swatches to practice color matching, primed panels to paint on, and many other surprises. Each item has been carefully chosen to help you unleash your inner creativity without stressing over the expense and confusion of art supplies.
Fritz has also ensured that the colors included in the kit can be easily mixed to create an endless range of hues and tones. The Pigment kit provides you with everything you need to create stunning works of art with oil paint, all in one convenient package.
So, whether you're a beginner or an experienced artist who is looking to perfect color theory, you can trust that the Pigment art kit has everything you need to start your journey into the world of color.
SHIPPING
Attention customers in Mexico, Central America, Asia and Eastern Europe: While we love to ship to these countries and don't want you to miss out, on rare occasions our individual shipments to your countries have arrived 1-2 months late, had some damage, or gone missing. Due to issues with postal services in these countries, we unfortunately cannot offer replacements or refunds for lost or damaged international shipments to these locations.
For all International Shipments (outside of the US): Please be aware that your item may possibly be held at customs for inspection, delaying the delivery time, and depending on your region's regulations you may be charged a customs fee or import tax or similar. Unfortunately, there is nothing we can do to influence customs clearance - each individual country has its own customs laws and we do not take responsibility for paying customs fees and taxes.
For all shipments within the US, shipping is $10 USD for the Fritz Does Art PIGMENT Kit. For all international customers, shipping is $15 USD.
We reserve the right to exchange any product for a similar product of similar value at our discretion.
National shipments should arrive within 6 business days after shipping. International shipments should arrive within 14 business days after shipping for most addresses outside the U.S.
Fritz Does Art PIGMENT Kits ordered July 24th to Present will start shipping October 2023.
SHIPPING BEGINS OCTOBER, 2023
Stay up to date on Muse Kits collaborations