Our Holiday Sales are Here!

Take 30% off all Previous Projects and Bundles! Use code MERRYMUSE2023 at checkout
Inspiration at your doorstep
Carefully curated with the focus to inspire creativity, Muse Kits sends all the art supplies that you need right to your doorstep. Whether you are a seasoned artist looking to try something new or a hobbyist looking for a creative outlet, join Muse Kits knowing everything you need will be shipped right to you.
How it works
SUBSCRIBE
Sign up before the 1st of the new month
UNBOX
Your box will ship out to you the first week of every month
CREATE
Dive in and share your work!
inspiration delivered
what's in every kit?
Each Muse Kit is designed to allow any level of artist to jump into a new medium or style of art. This means that every kit comes complete with all of the supplies you need to be successful. No need to try and dig through your old supplies for a brush or canvas, each box contains everything you need so that you can start creating the moment your kit arrives.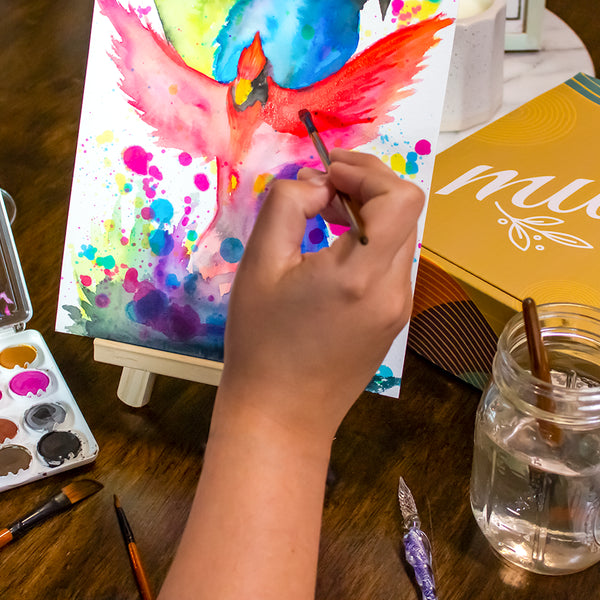 Hear from our happy subscribers
Always comes with great supplies, ideas, and supportive videos on YouTube. I always look forward to mine and enjoy creating different things each month. Everything is good quality and fun to use.
Natalie S.
As a recent subscriber I could not be more happy with the quality of products and thought put into each box. So, I got past boxes and love them too! You can't go wrong with Muse Kits. To me every art box I've tried has some flaw or down side. Not with the boxes they make. I just wish I could get it twice a month!
Julie L
The online store is easy to navigate, the customer service is prompt and helpful, and the delivery was right on time. The products are fun to play with and always a pleasant surprise. I recommend Muse Kits for the adventuring and experimental artist!
Laura B.
SEE MORE REVIEWS
WHO WE ARE
Established in 2014 by founders Reed and Brenda, Smart Art Box became the very first all-in-one art subscription box. Now, in Fall 2022, Smart Art Box has transitioned to a new name: Muse Kits.
Our company has grown over the last couple of years, we have built new relationships and have not only grown as a business, but as artists ourselves. We are empowered by our incredible community who have given us the opportunity to spark artistic inspiration in their daily lives… allowing us to be their Muse...learn more.
Join muse kits