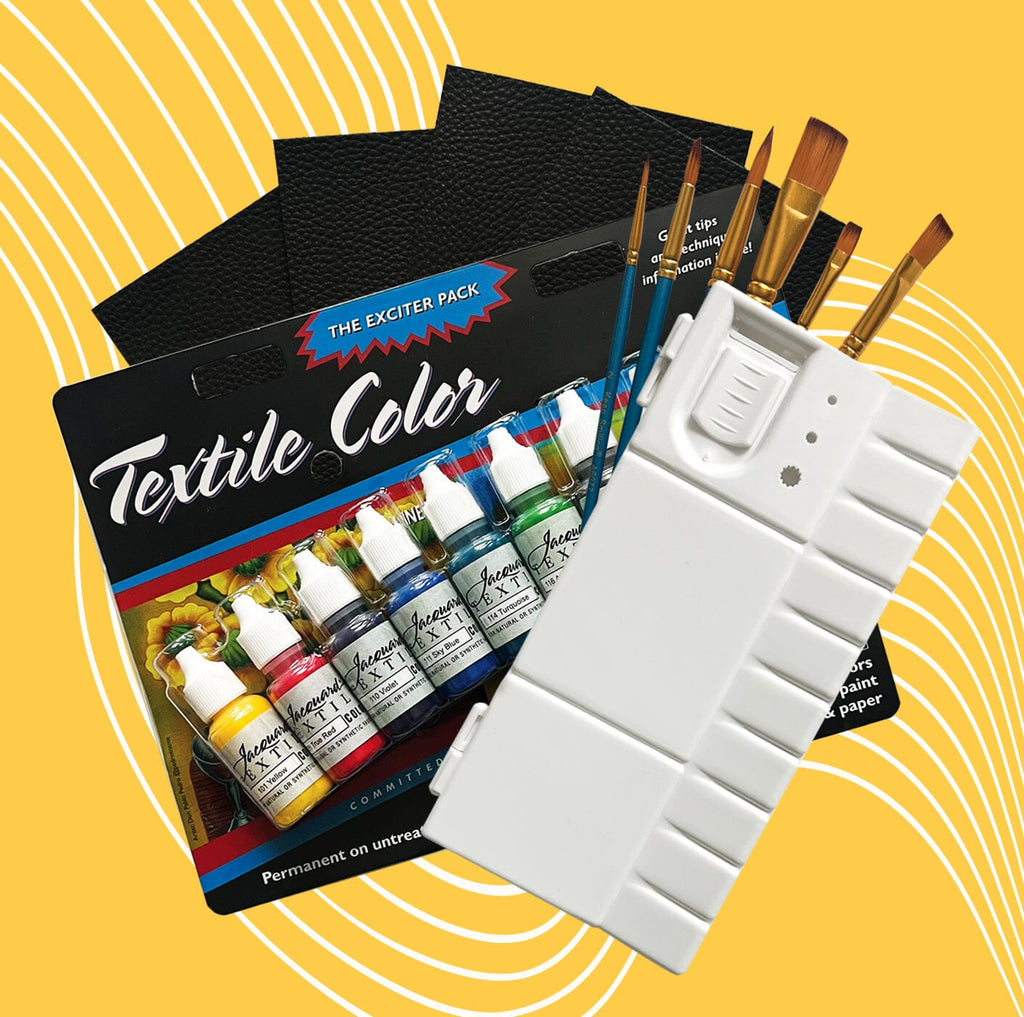 $34.99 USD
Leather has been used as an important art medium for centuries. Artisans have used a variety of tools and techniques for functional and artistic purposes including garments, book-binding, furniture, and more. This Smart Art Box features all the tools you need to try out textile painting and leather crafting.

JACQUARD TEXTILE COLOR EXCITER PACK , NINE 1/2 OZ BOTTLES
Featured Medium
The go-to, artist's standard for professional-quality fabric paints, Textile Color leaves fabric as soft as possible and holds up exceptionally well to washing. Permanent and colorfast on both synthetic and natural fabrics, including stretchy and extruded fabrics, as well as on other porous and semi-porous surfaces, like wood and leather. Textile Color never chips, cracks or peels, even with repeated wear and washing. Applied straight from the bottle, the color is semi-transparent and intense. Add up to 25% water to this medium-bodied paint to increase transparency and reduce viscosity.
ADHESIVE LEATHER PATCHES 8" X 4" - 4 PCS
Featured Canvas
These self-adhesive leather patches are easy to use. Simply peel, stick, and press. Leave it for 24 hours or more for a stronger bond. This month we will be using these patches to practice and create unique pieces using Jacquard's textile paints. Utilize these patches creatively by cutting into various shapes and sizes before painting.
6PC ASSORTED BRUSH SET
Featured Tool
Easy to clean and exceptionally durable, this artist brush set is an excellent choice for oils and acrylics, because it stands up to solvents and acrylic paints very well. Soft and absorbent, these brushes have natural wood handles in a blue gloss finish and seamless polished aluminum ferrules.
FOLDING TRAVEL PAINT PALETTE
Featured Tool
This folding travel palette makes taking your painting supplies with you a snap. Close up this economical palette for easy travel and storage. Constructed from lightweight, durable plastic, the white palette features 20 small color wells, five large mixing areas, three holes for holding brushes, and a thumbhole. It measures 8" × 8" when open and 8" × 4" when closed.